SEO has moved on leaps and bounds since old-school tactics such as keyword stuffing and spammy link building led to search engine domination. Although the finer SEO strategies have changed, there remains one underlying constant: Proper on-site optimization is the solid foundation on which all of your SEO efforts should be built.
Fortunately, the WordPress core ships with some useful built-in functionalities for optimizing your site, including meta tags, neat and tidy navigation links, and optimized permalinks.
If you're serious about ranking your website at the top of Google, though, you'll almost certainly want a little more. As ever, the best strategy with WordPress is to install a dedicated plugin with purpose-built functionalities — in this case, a search engine optimization plugin.
With SEO as important today as ever, there are plenty of SEO plugins out there — so which should you choose? To help answer this question, we're pitting two of the very best (not to mention the most popular) SEO plugins against each other:Yoast SEO (formerly known as 'WordPress SEO by Yoast') versus All in One SEO Pack.
To allow for a more in-depth discussion, we'll be reviewing each plugin's features in four areas, including:
overall settings and configurations
on-page content analysis
social media
XML sitemaps.
First up, Yoast.
Introducing Yoast SEO
The name Yoast is synonymous with SEO in the WordPress community. The brainchild of Joost de Valk, Yoast SEO is used by more than a million WordPress users.
However, 'Yoast SEO' actually started life in 2008 as an SEO tutorial. The SEO world has moved forward heaps since then, but, if you're interested, here's an early version of the article (courtesy of Wayback Machine).

The world wouldn't meet the now-legendary plugin until two years later; it hit the official WordPress repository in October 2010. At the time, it was known as WordPress SEO by Yoast — or WordPress SEO for short.

In July 2015, the plugin was rebranded as Yoast SEO — a name used to this day.
Now in its sixth year, Yoast SEO is available in 17 languages and has been downloaded a whopping 25 million times. This makes Yoast SEO one of the most famous, most popular, and most downloaded WordPress plugins of all time.
SETTINGS AND CONFIGURATIONS
After installing Yoast SEO, first-time users are treated to a quick tour of the plugin. With so many settings available, this is the easiest way to find your bearings.
Yoast SEO's plethora of settings can be found by navigating to SEO > General, where you'll be able to switch between five tabs. The Webmaster Tools tab is particularly useful, allowing you to integrate your website with four integral programs — particularly Google and Bing, but also Alexa and Yandex.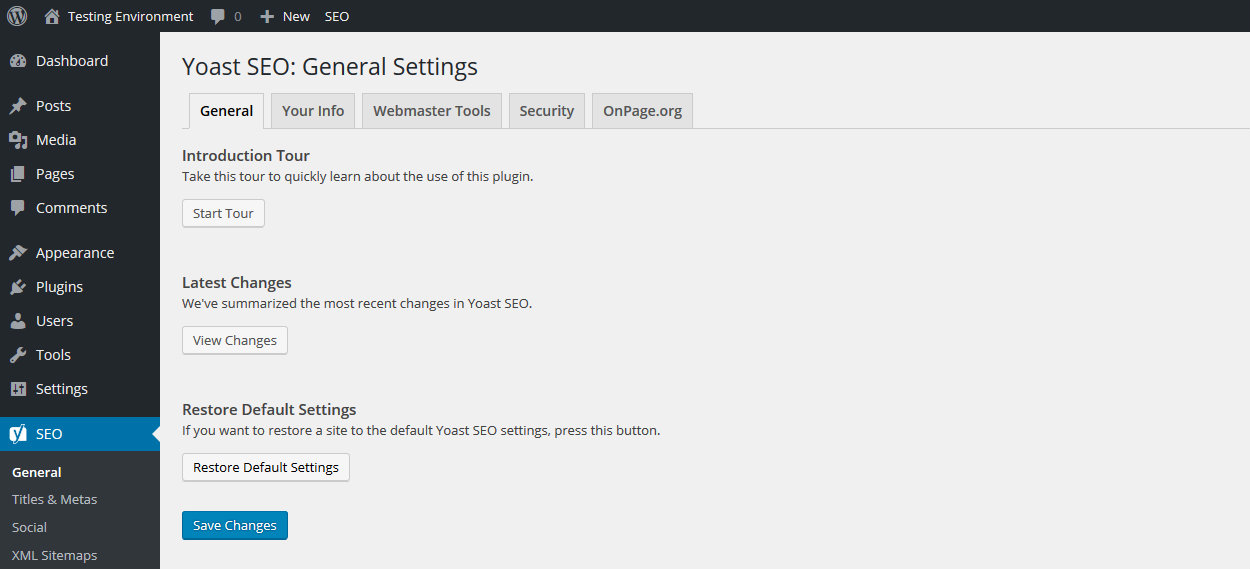 However, it's only when you get to the Titles & Metas screen that you get into the nitty-gritty. For example, by switching between the tabs, you'll be able to specify a title template for all aspects of your WordPress website — homepage, posts, pages, custom post types, categories, tags, and archives pages. You can also choose whether you want to no index a particular post type by default, display a date in search engine snippets, or enable the Yoast SEO meta box.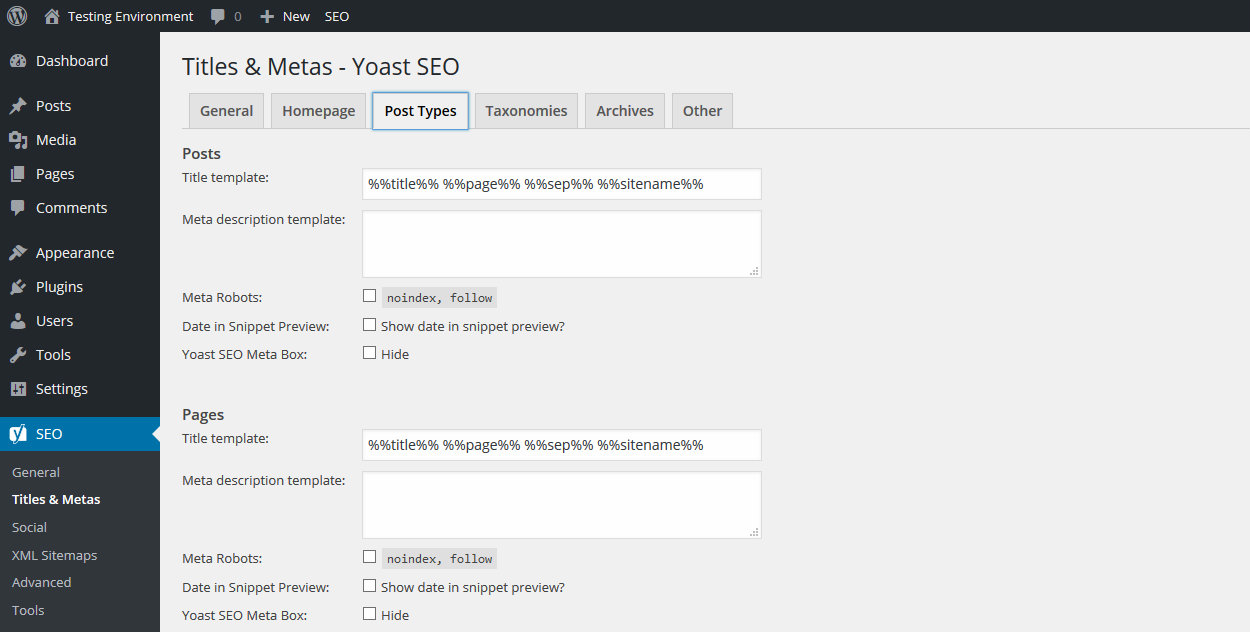 Yoast SEO also supports breadcrumbs, hidden behind the Advanced settings screen. Breadcrumbs improve visitor navigation and give search engines a better understanding of your site's structure.
CONTENT ANALYSIS
When it comes to content analysis tools, Yoast SEO is one of, if not the, best around.
You can find Yoast's content analyzer in a meta box directly below the WordPress text editor — provided it hasn't been disabled.
The first important feature is the Snippet Editor. This allows you to edit — and preview — how your content appears in the SERPs. Specifically, it gives you the opportunity to customize your SEO title and rewrite your meta description — both play a significant role in boosting CTR.

Next, we have Yoast SEO's main attraction: The Content Analysis tool. To use this tool, simply input your focus keyword (the phrase you hope to rank for in Google). Users of the free version of the plugin can only input one keyword.
With your keyword specified, Yoast SEO will analyze your content against 12 SEO 'best practices.' For example, keyword density, readability (using the Flesch Reading Ease test), and number of outbound links are all considered. It also looks at whether your keyword is used in the SEO title, meta description, and first paragraph of your content.
Each best practice is analyzed using a helpful 'traffic light' scoring system, helping you to easily identify the areas you can improve. Yoast SEO also displays an overall content score using the same traffic light system — obviously, the aim is green.

While you should be writing for your audience, this functionality guarantees your content won't sink in the SERPs.
SOCIAL MEDIA
Yoast SEO also ships with some useful social media features. For a start, you can tell Google the URLs of eight popular social networks by navigating to SEO >Social. By switching between tabs, you can also integrate your website with four popular social media tools: Facebook Open Graph, Twitter Cards, Pinterest Open Graph, and Google+ Publisher verification.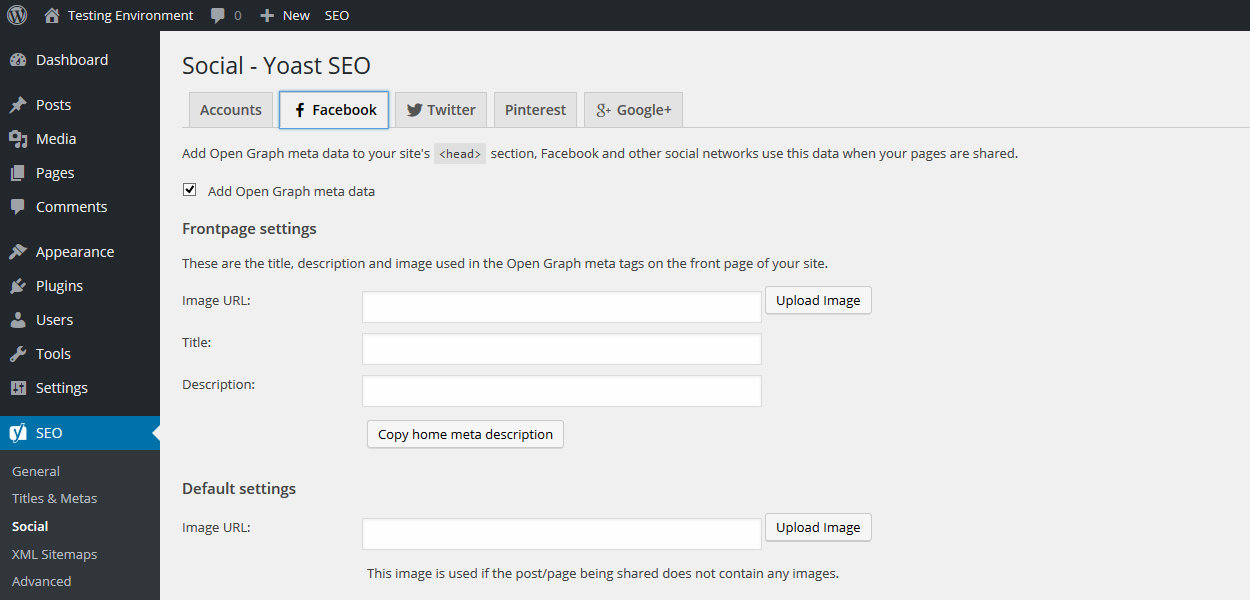 You'll find social media features in the content analysis meta box, too. Scroll below the WordPress text editor, then flick across to the Social tab. Here, you can tailor the way your content appears on the social channels — you can edit the title, write a meta description, and also upload a custom image. There are separate tabs for Facebook and Twitter.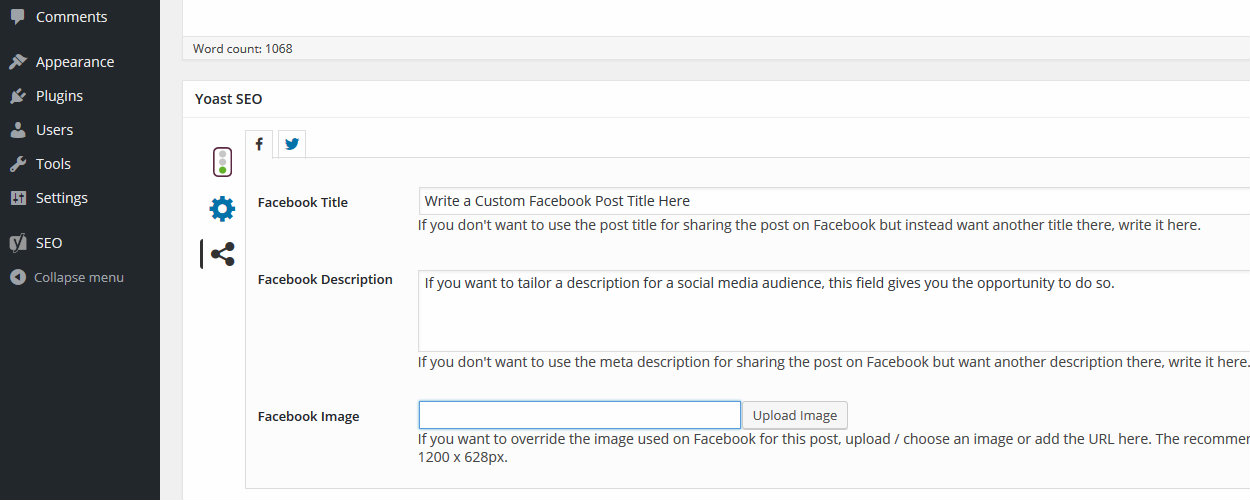 XML SITEMAPS
Before you can rank well — or rank at all! — your content needs to be indexed. If the search engines aren't indexing you, no amount of SEO can save you.
Fortunately, Yoast SEO offers built-in XML Sitemap functionality — and it's excellent, too. Enable XML Sitemaps by navigating to SEO > XML Sitemap and ticking the checkbox.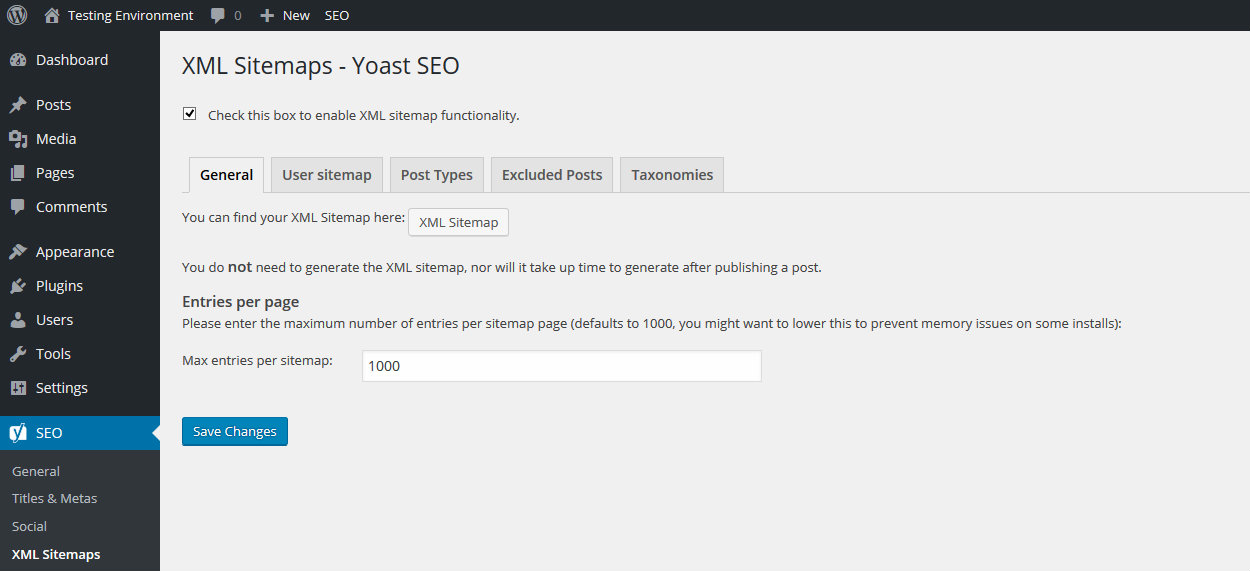 With the Sitemap functionality activated, Yoast SEO notifies the search engines every time you publish new content. This makes it the quickest way to get new posts indexed. Your images are also indexed, meaning you can show up in Google Image searches, too.
For greater control, Yoast SEO lets you exclude certain post types and taxonomies, should you wish. You can also choose to exclude individual posts by entering the relevant post IDs.
YOAST SEO PREMIUM
In 2013, Yoast released Yoast SEO Premium, available from $69 for a single site.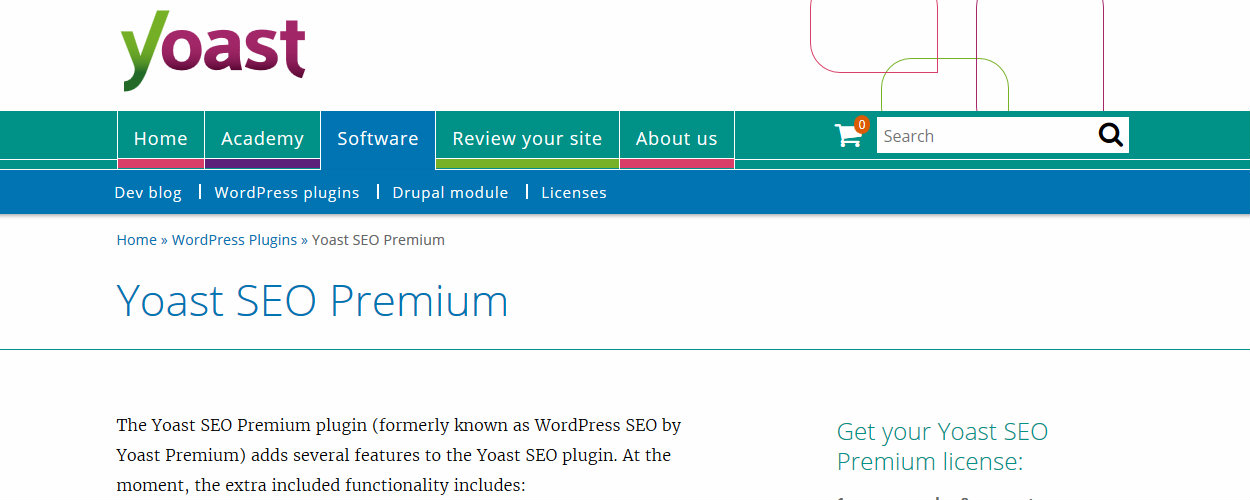 Having explored the free version's epic features and functionalities, you may wonder why you'd possibly need to upgrade to Yoast SEO Premium.
The truth is, regarding functionalities, you may not need to.
However, Yoast SEO Premium does offer access to the highly qualified support team. And, with more than half of all queries resolved within 30 minutes, these are the best people for the job.
Obviously, with such a large user base, Yoast couldn't possibly provide comprehensive support for the free plugin. Therefore, you could consider Yoast SEO Premium primarily as a premium support service. Whether you need to upgrade depends on how much you need Yoast's support.
To sweeten the deal, though, Yoast SEO Premium does include two useful functionalities:
Redirects — a quick-and-easy way to fix 404 errors.
Multiple Focus Keywords — the free plugin only supports one focus keyword.
It also includes 13 video tutorials, helping you to get the most from both the premium and free plugins.
YOAST SEO EXTENSIONS
Yoast SEO provides awesome all-round SEO functionality. However, if you want features tailored to your website's specific needs, consider purchasing one of the four Yoast SEO extensions.
A bundle, including Yoast SEO Premium and all four extensions, is available for $279 — which represents savings of more than $50.
Introducing All in One SEO Pack
The All in One SEO Pack plugin is Yoast SEO's great rival. The two plugins really do dominate the SEO plugin market, and both are evenly matched — to the point where it's almost impossible to discuss one without drawing comparisons with the other (such as in this post!).

All in One SEO Pack was created by developers Michael Torbert and Steve Mortiboy, and launched on the official plugin repository in 2007 — three years before Yoast SEO. It forms part of Semper Plugins' collection.
The plugin has more than a million active installs and a total of 26 million downloads to date, compared with Yoast's 25 million.
This means All in One SEO Pack is frequently part of conversations discussing the most popular WordPress plugins of all time. It also has the honor of being, to this day, the most downloaded WordPress plugin ever — although if Yoast can maintain its faster growth rate, it looks set to usurp All in One sometime during 2016.
SETTINGS AND CONFIGURATIONS
Rather than splitting the settings across multiple sections and tabs, All in One SEO Pack lists them all in one place — accessed via All in One SEO > General Settings. This means all configurations take place on one screen.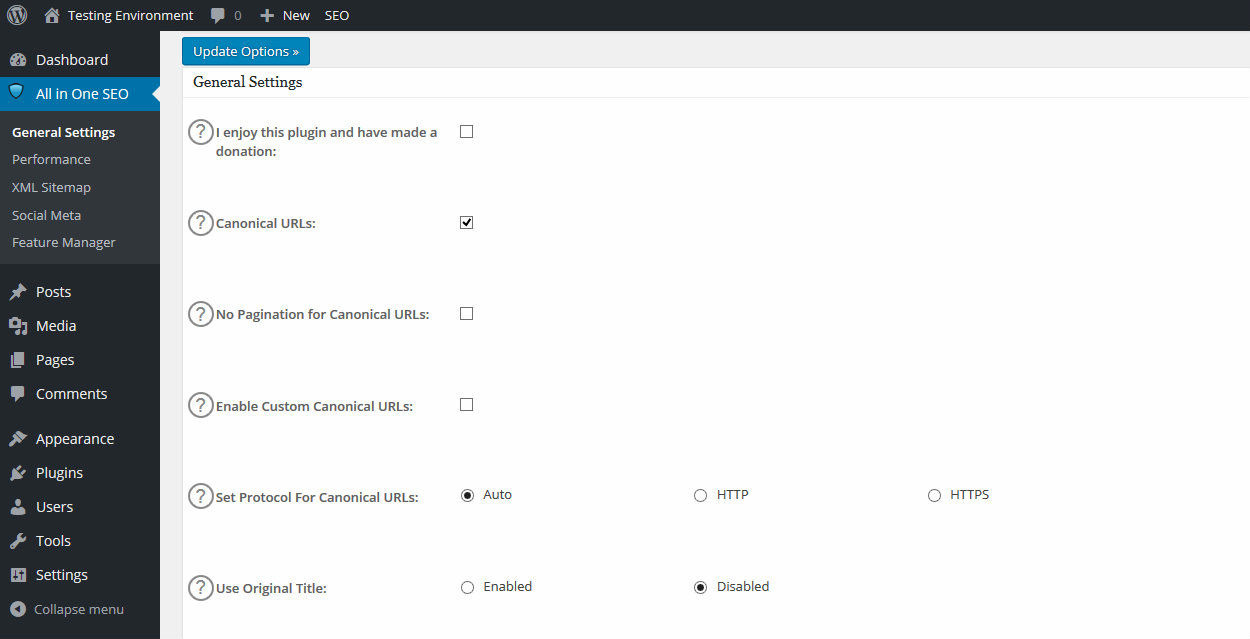 With more settings listed in one place, configurations can feel more daunting than those of Yoast SEO. However, to help you out, each option comes with additional explanations that can be toggled in or out of view.
By working your way through each section, you'll be able to:
determine how canonical URLs are handled
specify the homepage SEO title and description
configure title styles for each post type
sync Google Webmaster Tools with your website (also Bing and Pinterest)
integrate Google+ and Google Analytics
set default no index and no follow settings for each post type.
Comments
comments
Check your domain ranking